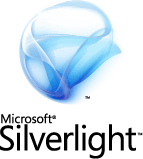 Adobe vs. Microsoft Vector Wars/Development platform heats up
Silverlight, formerly WPF/E, is a cross platform competitor to flash that launched today.  The new name leaves something to be desired but this is a new technology battle over vector application for RIAs, interactives, 3d, games, etc. 
The great thing about Silverlight is the use ot .NET and C# to code the interaction rather than Actionscript 3 in Apollo/Flex/Flash9.  I like both languages but with a .NET language to code in flash this opens up the development of interactive to a whole batch of developers not into Flash.
Tools to Develop with Expression Studio and Silverlight here
One major glaring problem is that Flash won the internet video battle with FLV video but Silverlight only runs windows video.
All in all this is great news in that two of the biggest companies are going to be pushing Flash and Flash-like Silverlight, meaning mush more possible interactive work.  Some are buying into the Microsoft vs. Adobe game but it just means better tools for smart developers that know how to leverage multiple platforms for their solutions.  This usually leads to the best understanding of solution development when technology has your allegiance rather than a specific platform or company.