John Grden the resident Flash rockstar \m/ and of Red5 fame has been kind enough to release the Papervision3D FlashCS3 UI Components.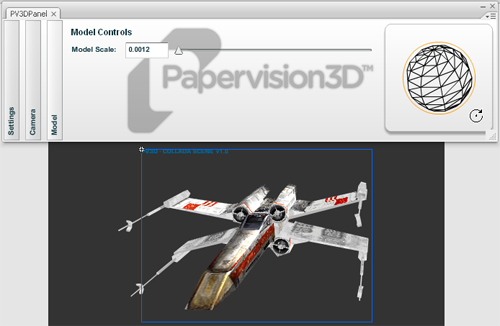 What's nice about this is it lowers the bar to people using Papervision3D and make it more accessible to non programmers.  I have been working to get Papervision3D in many projects but this will make it easier to get designers more into the engine and using Flash to create pv3d experiences. It may also help others to combine pv3d and 2d into some neat mashups (all this can be done before in script but when barriers are lowered usually more creativity follows, also visual use of 3d models in the IDE is powerful).
Here's what John has cooked up:
Finally! After waiting for a couple of months, I'm able to release the new Flash CS3 Papervision3D Components! There's a lot to cover, but to get things started, let's look at the features:

Design-time render and editing in Flash IDE
3 Material types supported – BitmapFileMaterial, BitmaAssetMaterial and MovieAssetMaterial
Creates MovieScene3D and Free or Target camera
Manages resizing / centering of Papervision3D scene [optional]
Dynamic masking to constrain the viewable render area to the bounds of the component [optional]
Full API and access to Scene, Camera, Collada objects to code around
Automatically loads materials via Collada file [when materials list is not given]
New Custom Panel for modifying rotation, camera zoom, camera focus, camera Z at design-timeReady to get started?
Download it hereYou'll needs some docs with that sauce:
DOCSWanna see it in real world action? I used it for the slide presentations at the class this last weekend at RMI.
Here are the demo files and the project for the Jedi Training Sphere slide show

In case you wanted to see the Jedi Sphere in action, and thus, the slides from the classes:
Developer's slides
Designer's slides

And of course, you can find all of that stuff out on Google code:
Papervision3D google home
Be sure to check out the quick video and more info over at RockOnFlash
Rock on John!