SharpDevelop 3 which can be downloaded from build servers here is looking pretty good for revision 3 of my favorite .NET Open Source IDE and maybe even favorite overall considering it responds quicker that everyone's .NET tool VS.NET.
The latest revision in builds just got the WPF and XAML tools in there. I tend to not use SharpDevelop for website development but do so for class libraries, apps and maybe forms development on occasion. This might help the layout side of things for the next gen of user interface development in .NET beyond just Expression.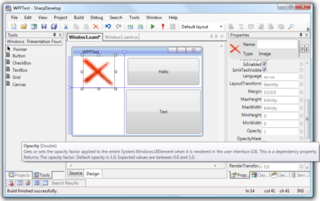 One thing that has been apparent with IDEs as sometimes as they grow in size and scope and try to add more features, it is actually a slow down in some cases. I have been slowed from VS.NET 2003 to 2005. They are great tools but things start taking longer, it seems it should be the other way around.
When I need to just bust out a class library many times I do so in SharpDevelop because it is responsive and quick. I just hope they retain this speed. I unfortunately like to work on many projects at once so my IDE has to be smart about long processes (I curse you pending checkins! In 2004 when in beta VS.NET forced me to external IDE source control in Subversion and TortoiseSVN – much happier now).
XAMLPad right now is a pretty good quick development tools for XAML as well beyond just Expression and VS.NET Orcas Beta.
Be sure to try out SharpDevelop if you have not yet and develop .NET or would like to start. It is a great IDE and has some good extras like converting C# > VB.NET buffers whichcan be extended out to a service.