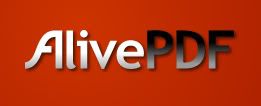 Thibault Imbert from ByteArray released the first PDF Creator for AS3 / Flash 9 called AlivePDF.
The new BinarySocket and ByteArray handling adds essentially no limit to the imagination of what is implemented in AS3. Non programmers might not understand the immense power that brings to this language and platform in AS3. Essentially it allows creating and reading binary to manipulate any file type.
This entry was posted on Thursday, August 23rd, 2007 at 8:18 pm and is filed under ACTIONSCRIPT, ACTIONSCRIPT3, ARCHITECT, AS3, CODE, DEVELOPMENT, FLASH, FLEX, OPEN SOURCE, PROGRAMMING, VECTOR. You can follow any responses to this entry through the RSS 2.0 feed. Both comments and pings are currently closed.