The 3d engines in Flash and the power of AS3 virtual machine and programming language is inspiring all kinds of killer stuff on the web, winning awards, on lists and all over the web. It is going to get even more intense with the new Astro releases.
One amazing implementation using this latest tech is Paul Spitzer's FPS Engine in Papervision3D. Wait til you see this…
Paul Spitzer's FPS Engine

This is by far the smoothest and best textured FPS like control for Flash I have seen yet.
Mouse click and move – look around
e – walk forward
d – backward
s – strafe left
f – strafe right
What is cool about this is it isn't just for games, this can be used for all types of applications but Paul is giving us a glimpse of the possible gaming platform in 3d that Flash could become. It hasn't been confirmed but Paul just might be some sort of Flash superhero. There have been other FPS like movement in pv3d and other3d flash kits or canvas but they just aren't as smooth and well put together as this and my processor doesn't melt on this one.
Another cool 3d room type app is Tim Knip's Floor Planner Using Papervision3D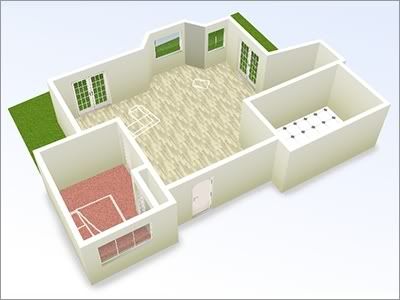 This looks like it can be a very cool way to implement useful apps with 3d flash not just games.
Also recently we highlighted a 3d editor and real-time texture lighting isometric 3d engine.