Great news! Polygonal Labs has released the long awaited Motor Physics engine. It is now called Motor2.
UPDATE: Now hosted at Google code
Project hosted at code.google.com/p/motor2
License: New BSD License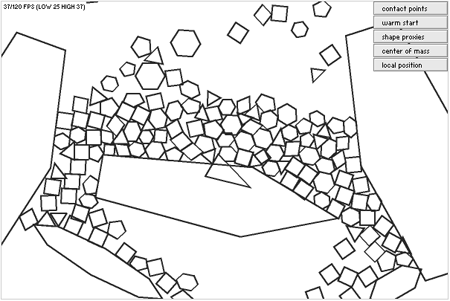 After the port of Box2DFlashAS3 appeared the fate of Motor Physics engine was unknown. But with time and just before the stroke of midnight on the final hour of 2007 Michael Baczynski released Motor2 2D physics engine on the world.
This now gives us, count them, FOUR AS3 Physics engines that were released in 2007 in order of release.
Be sure to check the demos of Motor Physics:
To get the source head on over to the blog and in the post it is in the first para.
Currently you can get the source for the preview here.
Polygonal always has such great information and demo write ups the source link gets lost in there. Hopefully this will be at Google code soon or a public SVN. The code looks great and there are optimizations in there but even those are elegant.
With 3 excellent flash as3 3d engines (papervision3d, away3d, sandy), 4 physics engines, lots of great utilities like FZip or ASZip, AlivePDF, Red5, haXe etc etc. 2008 is looking like it will be a great year for performance, optimization and gaming/app platforms on the web like never before seen. I am most looking forward to the coming gaming market for flash, lots of possibilities. With the added competition from Silverlight, much innovation will happen here.
It is great that Motor2, which has a great author and dedicated to performance has joined the physics engine scene, not only that posting on new years eve. Thanks to all that make the flash platform possible of creating excellent new fun and useful tools.
UPDATE: Now hosted at Google code
Project hosted at code.google.com/p/motor2
License: New BSD License