Who's up for some flash 3d gauntlet? Away3d and Fabrice have posted a pretty sweet demo that samples a 3d level with a little 3d avatar running around (animated).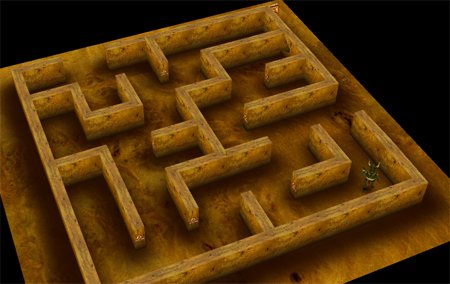 Most 3d usages (even outside flash) resort to this to make sure the featured 3d models get all the processing power and polys needed to look good but still be optimized for flash 3d (fake software rendered 3d — slower). I agree and also am interested in
loading 3d flash assets as compiled SWFs,
but that has it's own set of duplication whoas. It has to be designed/planned very smart to pull off a game that can perform well.
The stuff for generating 3d worlds in flash from the FPS demo from Animas (Paul Spitzer), the intense work going on at Alternativa Game, toolkits like AS3 Geometry Exporter for 3dsmax (to away, sandy or papervision 3d format/types). And of course all the great 3d engines, physics engines and animation kits that have helped make the 3d flash pipeline for actionscript 3 (as3) a little more optimized and quite fun.