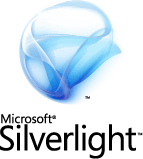 Silverlight 2 has been released. This is the real silverlight release.  The release last year 1.0 was just a javascript release and only had one object, the downloader, not even a text input.  But now there are real tools like rich ui controls, services support (REST), DLR (C#, Linq, ironpython/ruby) and Sockets which are much needed for games and game platform development.
There are also much better tools at this stage:
Bam. Silverlight 2 is out. There's the expected stuff, like the final SDK, Expression, and Silverlight tools:

And from Tim's blog:

But there's also http://www.eclipse4sl.org/. Yes, that means you can code Silverlight in Eclipse. Details and progress at the Eclipse Tools for Silverlight Blog. It'll be licensed under the EPL 1.0 License.
I have done lots of Silverlight initially when 1.0 came out as well as the agency I was working at.  We did video players, mini-games, demo apps and even the Halo 3 online manual at silverlight.net.  But it wasn't really ready until now.  It still has a long way to go to really be an alternative to Flash but it is capable platform at version 2 for applications, mini-games and video apps for sure. But in the end it just provides competition to make both the Flash/Flex platforms and Silveright compete for developer support.
Tags: 2, AS3, eclipse, FLASH, IDE, MICROSOFT, SILVERLIGHT, sockets