Google has a few things going for 3d in the browser, not just 3d but hardware rendering in the browser.  They previously had native client which allows you to run code via a plugin proxy with a sample running Quake.  They also had Lively which was a virtual world plugin that was shut down a few month after it started.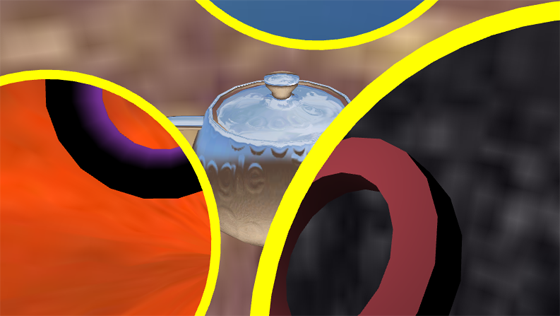 Now they are also making and releasing an O3D plugin that looks to be another way to do web 3d scenes and games although it is a very early stage. They appear to want to have an open discussion about how best to add hardware rendering to the web.  Their approach uses a javascript api to control the browser plugin and the O3D control is essentially just a renderer.
This won't change anything now as Unity3D, Flash 3D pseudo engines, even Director 3D still are the top choices for games, apps, and interactives that need effects and possibly hardware rendering. But it is interesting that Google is essentially re-entering this debate after ditching on Lively and they must see some benefit to having a discussion about 3d on the web and 3d standards in general.  I know they have lots of models and tools with SketchUp and Google 3D warehouse so who knows maybe they will take it over by being standards, open and information based.
What is O3D?

O3D is an open-source web API for creating rich, interactive 3D applications in the browser. This API is shared at an early stage as part of a conversation with the broader developer community about establishing an open web standard for 3D graphics.

Get involved
One thing is for sure, 3d development is still old school proprietary lock in in most cases.  Working with 3d and tools like Maya, 3dsmax and others they have always been very non standard.  From file formats to interfaces to even basic movements, all different.  The general maths of 3d are the same and so should 3d pipelines.  Formats like COLLADA are nice because they are starting to open up 3d pipelines and content creation but COLLADA still has many porting issues.  FBX file format is another that is really useful and common making pipelines in Unity 3D, for instance, very nice. But it is owned and run by Autodesk who owns all the 3d apps (Maya, 3dsmax, SGI) and I am a bit leary of that method.  But in the end 3d pipelines and rendering will be somewhat standardized and maybe the web will be hardware rendered one day.  In most cases it is not needed, but for gaming, immersion, demos and other entertainment it could benefit heavily from a more standardized 3d pipeline and methods.
Tags: 3d, browser, formats, google, hardware, JAVASCRIPT, o3d, RENDERING, sketchup