Archive for June, 2009
This is a very cool project called V8-GL.  It is an OpenGL engine with 80% of the API converted to run on the V8 Javascript engine, the same engine that runs Google Chrome.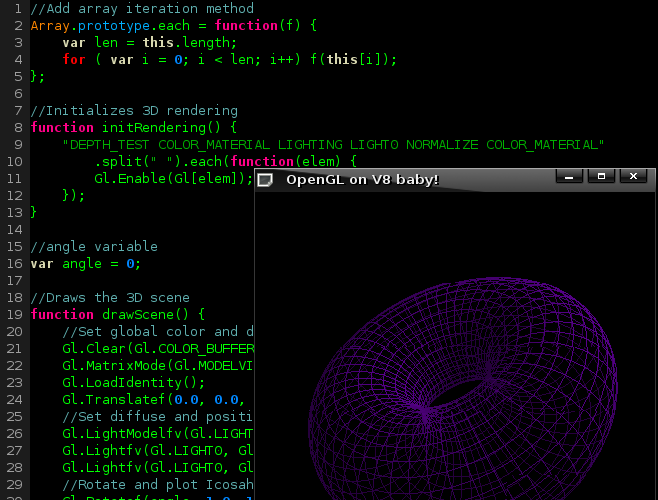 This is exciting as more productive languages like Javascript get speed boosts from engines like V8 and are capable of manipulating more complex systems like OpenGL.  Google is also pursing this in the browser with O3D with javascript manipulation of hardware rendering.  Also, a Google funded project called Unladen Swallow is converting Python to the LLVM virtual machine, so that it can have increasing speeds to compete with gcc speeds.
Making things easier to produce and control with more simplified and minimal languages like Javascript, Python and Actionscript etc that control more complex systems, that typically you would need to invest more time in such as a platform on C++ is the goal. V8-GL has this goal in mind.
V8-GL from the author states:
V8-GL intends to provide a high-level JavaScript API for creating 2D/3D hardware accelerated desktop graphics.

In other words, you can hack some JavaScript code that opens a desktop window and renders some 3D hardware accelerated graphics. Bindings are made using the V8 JavaScript engine.
haXe is an interesting programming language that allows abstracting the source from platform target.  It outputs for targets such as Actionscript and Javascript from haxe language source. But, haXe can also output to native code to run on Windows, Mac OSX, and Linux.
Well because of this it is possible to run haXe on the iPhone. The gamehaXe site has found a way to get haXe to compile to iPhone via hxcpp which creates a C++ output from haXe code very similar to Actionscript 3.
I am a bit late to the party but this is great news. It uses the NME library which will allows code to mostly be written to the Flash 9 API and create the C++ for XCode to compile and run on the iPhone and Touch. This creates a path to port Flash games to iPhone/Touch.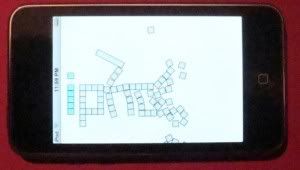 This project is one to watch and participate in.  Native compilation to the iPhone from haXe is a more simplified code to write in while providing lower level performance which is needed on mobile devices, as processors, cache and ram are much lower than desktop and below what is capable of running the Flash AVM2 currently.
If you have more interest in haXe there are some other great demos on as3/haXe at the game haXe site. Also, Tony at touchmypixel.com has posted some very useful information to help you get started with hxcpp.
The hxcpp project is a newer output target along with a java one but this could be interesting if actionscript like code and many libraries like Physaxe or AS3 libraries could be ported to haXe to output to the iPhone.
Rozengain or Dennis Ippel of AKQA updated probably one of the tools I use the most for flash 3d and that is the blender to as3 exporter.  This simplifies loading in the meshes you have and lessens the bulk of the COLLADA format.  COLLADA is great but flash is still client side and fairly memory intensive for 3d so loading in models directly to as3 is nice if flash is your presentation tool.
AS3 Blender exporter has been updated to allow multiple object export. Also in April is was updated to export quads and modifiers.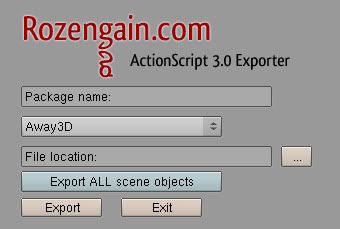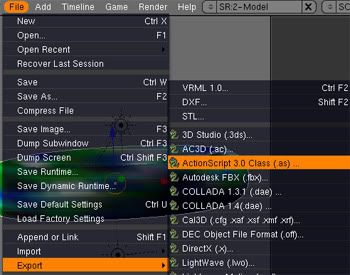 One concern you might have is statically binding the code within a main swf fileon compile and resulting file size compared to loading in the DAE dynamically.  But you can just load these in as you would external DAE COLLADA files as compiled swfs and since it is just code it is very compact.   This adds some duplication of code (such as tweening libraries or the 3d engine source as needed) but allows a more horizontal loading or lazy loading of meshes when needed.
This is just another option to get 3D models into the flash 3d engine of your choice in addition to COLLADA, some MD2 support and limited ASE support.
This is an awesome project that keeps getting better, thanks Rozengain.