Archive for the 'tracking' Category
pyamf is pretty sweet for Flash remoting with Pythonic server side, but now we have two nicely done and integrated remoting kits for python on the server side.
amfast is a new remoting library  that looks to be as sweet as pyamf (where sweet == fast and useful).  I am checking out amfast now but the speed boost alone might be worth it.  For instance, working with real-time games, when you need static content you need to grab that quickly sometimes via a content service.  The faster that link the better. It also has Twisted integration which is great for networking and SQLAlchemy integration which is in my opinion the best ORM for python (pyamf has twisted, django, pylons, sqlalchemy as well)
amfast is well documented and has some great examples.  If you have the Python addiction, check it.
Description

AmFast is a Flash remoting framework for Python.
AmFast can use AMF to communicate between Python and Flash, Flex, and any other system that supports AMF.
AMF is a binary object serialization protocol used by Actionscript based applications.

Server Features

Support for NetConnection and RemoteObject RPC.
Support for Producer/Consumer 'push' messaging with HTTP polling, HTTP long-polling, and real-time HTTP streaming channels.
Support for authentication with NetConnection and RemoteObject.
Flexible Target mapping system to map message destinations to invokable Target objects.
Support for ChannelSets with multiple Channels to expose resources in different ways.
Built in Channels for CherryPy, Twisted Web, and plain WSGI.
Support for configurable Endpoints. Use AmFast's built-in AMF encoder/decoder C-extension, or use an external AMF encoder/decoder, such as PyAmf for a pure-Python implementation.

AMF Encoder/Decoder Features

AMF0/AMF3 encoder/decoder written in C as a Python extension for speed.
Map custom classes with ClassDef objects for complete control over serialization/de-serialization.
Full support for IExternalizable objects.
Data persistence with SqlAlchemy including remotely-loadable lazy-loaded attributes.
Actionscript code generation from ClassDef objects.
Unity 3D iPhone was updated recently to 1.0.2 and it has been greatly improved in performance and a much more solid 1.0 toolkit.  According to Unity 3D information by up to 50% which means much more room for assets to munch memory for us yay!
I updated to iPhone SDK 3 beta 4 and iPhone OS 3 beta 4 and the latest Unity iPhone and things were much better in perception of speed at least in early testing.  Not sure if it was more from one or the other but the games I am testing/building so far are quicker and the OS feels faster overall.
Get the latest Unity 3d iPhone dev kit (only for Mac OSX obviously since it uses XCode to compile per Apple licensing requirements)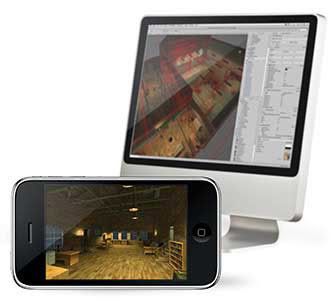 This build fixes many issues and makes some great optimizations for speed as listed here:
New Features and Improvements

Reduced memory footprint for uncompressed audio by 50%
"Memory usage for textures reduced by 50%. Texture memory is now freed once it has been submitted to OpenGLES on the device. The "Enable Get/SetPixels" flag in the Texture Import Settings lets you disable this feature on a per texture basis in order to access the texture data from a script using GetPixel etc.
Improved iPhone script call optimization
Removed unused parts of Mono runtime
Reduced memory overhead while reading data from disk and slightly improved load times.
Support for several predefined splash-screens (portrait/landscape) for Indie version. Just rename one of the splash-screens in the output directory to Default.png
Exported audio session activation/deactivation functions to AppController.mm
Added Scripting Reference code examples for iPhone specific APIs

Bug Fixes

Fixed audio to play correctly after phone call / text message / alarm interruption occurs
Fixed compressed audio occasionally refusing to play
Fixed AudioSource.PlayOneShot to work correctly with compressed audio
Fixed audio to respect Mute switch and background iPod music
Fixed Pause function and time property for compressed audio clips
Fixed OpenAL memory leak
Fixed PhysX memory leaks
Fixed Audio and Animation assets leaking while loading new scene
Fixed a crash related to playing compressed audio in a sequence
Fixed memory leak while updating Mesh geometry data
Fixed several small memory leaks in rendering module
Fixed asynchronous .NET sockets
Fixed .NET threads
Fixed cross thread boundary calling to the delegates
Fixed UnityEngine.TextEditor stripping
Fixed GUI slider stripping
Fixed GUI scroll view stripping
Fixed IndexOutOfRange exception checking
Fixed Boo.Lang.dll stripping
Fixed occasional crashes of AOT cross compiler