Posts Tagged 'appletv'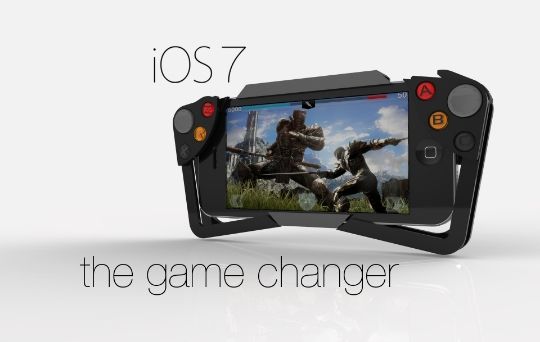 There is a revolution going on in game consoles. It is a new micro console movement that is driven by the openness of mobile + casual markets/stores and self-publishing that have disrupted handheld gaming.  That is now about set to disrupt the living room and game console markets.
Apple TV
Apple TV has not yet officially announced apps/games for Apple TV other than AirPlay but that is coming when Apple TV launches the SDK.  Largely this most likely will be a push type of platform where you have your tablet or phone/pod device to flick or push games and apps onto the big screen.  Then your device becomes a remote or gamepad.  Apple TV will also be able to download these apps much like iTunes but it will largely be driven by the hardware (tablets and handheld (iPhones/iPods)).
Apple also has a gamepad support api in iOS7 for the virtual pad haters and this will create some great gamepads and experiences to play longer in front of the TV or other big screens.
Android (Google/OUYA/Others)
Google has recently also gotten into the game after OUYA has now launched, GameStick on the way and because Apple is getting in Google is wise to as well.  Both iTunes and Google Play! will be extended by these game consoles/tv apps devices.
The people briefed on the matter said Google is reacting in part to expectations that rival Apple will launch a video game console as part of its next Apple TV product release.
Self-Publishing /  App store Models
Self-publishing is a large reason indies/small-medium studios are flourishing and these devices will continue the disruption of the game industry. Mobile, web + open desktop games will spill into the TV in droves. Limiting publisher control by allowing self-publishing will sell lots of hardware and games, bigger economies always sell more hardware and games.
Whether it's making games or distributing them, the focus for Valve going forward is going to be how it can provide the framework for its customers to be entertained, and to make entertainment. Games are goods and services that are part of a large economy. For Newell, the next step is to expand that economy.

"Economies get better the bigger they are," Gabe Newell
Big Consoles React to Mobile Openness
The new big consoles in Sony PS4, Nintendo WiiU and the XBox One are also launching this year or have launched (WiiU).  The smart ones are allowing self-publishing as that will grow their games and fun factor by allowing indies, small and medium sized companies to play again.  So far Microsoft is the only company not embracing the open/self-publish model that will sell more hardware and software, strange considering they are about developers, developers, developers and were one of the first to allow indies on the platform (albeit in a flawed way). Both Apple, Microsoft and possibly Google are the only companies that really have the hardware, software (OS) and the ability to publish games to handheld (phones/pods/tablets), desktop OS (OSX + Windows) and now consoles (soon Apple TV and XBox). But only Apple is embracing openness across all, Google will also hopefully not duplicating the Google+ games limited market debacle. Let's hope Microsoft changes tune again on XBox One and allows self-publishing instead of only approved developers and let the market decide on good games.
Old Skool Arcade Fun + 'Pure Play'
The best part of all this is game creation and playing is going back to the fun factor times of arcade and early web games where experimentation and fun factor is the main goal.  Even John Carmack agrees mobile focuses on 'pure play'.
"I was really happy that when mobile came along with the more 'pure' games, they didn't have to be a $50 game that had man-centuries in them," Carmack tells Ars Technica. "You can have these small things that cost people a couple bucks."

"I don't have a lot of free time and I don't have 50 hours for Skyrim. That's not to take anything away from the massive titles, but it's great to have this broad spectrum of gaming," Carmack added.
Besides recently becoming the most popular configuration in the entire iPod lineup, the iPod Touch "has become the most popular portable game player in the world," Jobs chimed. "The iPod Touch outsells Nintendo and Sony portable game players combined. It has over 50 percent market share for both the U.S. and worldwide."
Small caveat is that the DS still has the most units but that will only last for a month or two more:
DS = 125m
iOS devices = 120m
PSP = 62m
Game sales
DS = 718m games sold
PSP = 252m
iOS games = 1.5B games and entertainment
But as far as devices Apple will surpass Nintendo this quarter as Apple handily beats them each month currently.
I believe that the Apple TV is also a notch in the future to console gaming, replacing the console with a thin client that can be controlled by handheld devices such as iOS devices. This may or may not happen but I think it will and it may be an Apple TV feature in the next year or two.  The Apple TV is an iOS device.
However, as Mike Capps commented to Gamasutra in

our interview

immediately following the event, "Right now, I can display from my iPad to my Apple TV on a big screen TV. How far away are we from ,'That's my game console, and it's displaying wirelessly to my television set?' It's not far away."

…

What will that mean? What form will it take? How soon will it come? All unanswerable. But Sony, Nintendo, and even Microsoft are all officially on notice as of today.
Do consoles anchored to a TV suddenly seem like the old way?
To the argument that the Appstore is full of bad games, it is, but it is also the secret to their success.  Apple built a platform and let indies in.  Apple was very critisized about their approval process but Playstation, XBOX, Nintendo Wii, Nintendo DS, Sony PSP all have more harsh approval processes and dont' even let indies begin developing until they approve.  The result is higher quality games on the latter devices however it is the same problem the web brought.
I think that was Nintendo and Sony's downfall in that they didn't jump on the downloadable store AND allow indies in.  There are lots of fart apps that come with allowing almost everything but you also get stuff like Angry Birds, Monster Dash, Real Racing, 2XL, Gameloft etc.  I'd rather let everything in and let the charts decide what is best rather than it be a closed market to indies from even trying.  But that comes with lower quality games for the most part except those standouts that might have been rejected on Nintendo or Sony platforms. 99% of the Appstore is crap but 1% is awesome, that 1% might be bigger than the quality games that make it to the PSP or DS.