Posts Tagged 'DIRECTOR'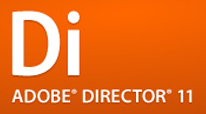 Director 11.5 was quietly released last week at GDC with a few nice upgrades.
The sound library is updated to Dolby surround 5.1. 
Director 11 now supports ByteArray and binary data handling. 
It also states support for Flash 9 swfs. Previously Director 11 did not work well/atall with AS3/Flash 9 swfs which made it nearly useless.
Streaming support for audio and video with RTMP (red5, flash media server, etc)
Updated video support
Bitmap and audio filters for video
I still think Director is on decline unless they open up the development platform, lose Lingo and allow a real IDE to develop with. So frustrating being restrained to that IDE that is not very flexible and cumbersome to extend and code in when you compare it with cutting edge IDEs like Unity3D or open source flash IDEs like FlashDevelop. It has been completely removed from our workflow for some time due to new Flash 2.5D engines such as papervision 3d, away 3d and sandy or for more immersive hardware rendered 3d, unity3d. 
Adobe Director version comparison chart
Product features
Director 11.5
Director 11
Director MX 2004
Support for 5.1 surround sound
Yes
No
No
Real-time audio mixing
Yes
No
No
Audio effects and DSP filters
Yes
No
No
H.264 MPEG-4, FLV, and F4V video support
Yes
No
No
Streaming support for audio and video with RTMP
Yes
No
No
Ability to apply audio filters on a video
Yes
No
No
Ability to apply bitmap filters on a video
Yes
No
No
Google SketchUp file import
Yes
No
No
Enhanced physics engine with support for dynamic concave rigid bodies
Yes
No
No
ByteArray datatype for binary data handling
Yes
No
No
Multiple undo/redo for text editors
Yes
No
No
Text rendering and performance optimization
Yes
No
No
Cross-domain policy support for Adobe Shockwave® Player
Yes
No
No
Mac OS X Leopard support
Yes
No
No
Unicode support
Yes
Yes
No
Microsoft DirectX 9 support
Yes
Yes
No
Advanced physics engine with included NVIDIA® PhysX™ support
Yes
Yes
No
JavaScript dictionary
Yes
Yes
No
Code snippets
Yes
Yes
No
Bitmap filters
Yes
Yes
No
Microsoft® Windows Vista® support
Yes
Yes
No
Support for Intel® based Macs
Yes
Yes
No
Cross-platform projector publishing
Yes
Yes
Yes
Web publishing with Adobe Shockwave Player
Yes
Yes
Yes
Support for more than 40 video, audio, and image file formats, including SWF
Yes
Yes
Yes
I was able to download the demo and it is in the store and on Adobe's site. The new AGEIA™ PhysX™  physics engine and some sort of updated 3D with hardware rendering is nice.
But, Director is like the Rodney Dangerfield of products at Adobe.  Everywhere you have to dig for it, it doesn't even have updated marketing in most places, the shockwave player link is still from 2002 etc.  I wish that Adobe would support it more, open it up, allow better IDEs, integrate ES4 based Actionscript 3 or 4 into it and keep the 3d market that shockwave supports moving along.
Maybe they will give Director more love but if they don't allow for some community input and work on the platform like Flex and Flash have thrived on, well they might just lose that piece of the market (3d gaming, hardware).
First impression is the fonts do look much better.  Unicode support is so far so good and I haven't had a chance to dig into the AEGIS PhysX engine yet but that looks very very fun.
For instance here is a Physics Engine call that creates a rigid body terrain


//JavaScript Syntax
var objTerrain= member("PhysicsWorld").createTerrain("myterrain",terrainDesc,position,orientation,1,1,1);

Or some raycasting:


//JavaScript Syntax
var lstraycast = member("PhysicsWorld").rayCastAll (vector(10,0,0),vector(0,0,1));
for(i = 1; i < = lstraycast.count ; i++)
{
    raycstEntry = lstraycast[i];
    put("Name:" + raycstEntry[1].name);
    put"Contact Point:" & raycstEntry[2]);
    put("Contact Normal:" & raycstEntry[3]);
    put("Distance:" & raycstEntry[4]);
}


I use the Javascript source simply because it is much more usable to me. Unfortunately the docs are only partially converted to Javascript.  Lingo is pretty close to it though but it scares people off.
What Adobe needs to do is port into Flash the ability to use Shockwave3D (hardware rendering for 3d), AEGIS PhysX, would that not blow up big time or what?
This is a bit off the online games department (although Havok was part of Director previously) but they are offering Havok physics core engine, the one that runs many great games including Half-Life 2 family, free. This is truly amazing Havok was the best and probably still is the best 3d physics engine for so long but was so freaking expensive it made it unattainable to anyone without probably close to half a million for budget. I think they are either getting heat from competition or they realize the importance of allowing communities to see what they can do with something, then coming along for the ride rather than being a wall that they have to go around. (of course this leads to bigger license fees once someone is established and can afford it).
They say exactly this here:
Havok's core platform, Havok Complete combines the industry-leading Havok Physics engine and Havok Animation, the company's premier character animation solution. Havok Complete is already the most popular solution in the cross-platform AAA games market, featuring technology used in over 200 games. By making Havok Complete for the PC freely downloadable, Havok will further build on its leading position by completely removing the barriers to entry for the large number of independent developers, academic institutions and enthusiasts in the PC space.
I always encourage products and people making any sort of toolkit, engine, application or library to offer it free or a portion of it free to get people hooked, and then as skills are acquired, they are then completely sold in. It is a bit of a play on the old piracy market where applications become so rampant that everyone uses them for years, then they recommend them at work and the growth of this type of marketing is long-term. Windows and Photoshop both got their market shares this way, they will never admit this though but I digress.
I am so excited by this news. It is interesting that the next version of Director, Director 11 was recently announced and it NO LONGER uses the Havok 3d physics engine but the AGEIA PhysX due to it being free (although the source license is still 50k).

I currently use Irrlicht and AEGIS, or ODE (open source physics engine – open dynamics engine) for pc based game development and physics fun. I will have to read the Havok license carefully but just getting your hands on this will be beneficial to all aspiring game developers.
Now if only game companies like Epic, Artificial Studios, and others would do the same, hrm…
One item of note is that it won't be available until May.  I can imagine that the developers are like "ok well give me a few months to clean up all the code and cuss words from the source" j/k.  Let's hope this release is not on Valve Time.
Get your game on!