Posts Tagged 'exporter'
John Nack from Adobe has been presenting Adobe tools exporters to html5 recently.  One is a Flash to html5 convertion tool. It looks good for converting flash vector assets to html5, but you could also use the Illustrator exporter to html5 (canvas/svg) for static assets.
This converter doesn't appear to do anything for scripted animation or code, just exporting assets via old skool timeline. But this is definitely the right idea.
Rozengain or Dennis Ippel of AKQA updated probably one of the tools I use the most for flash 3d and that is the blender to as3 exporter.  This simplifies loading in the meshes you have and lessens the bulk of the COLLADA format.  COLLADA is great but flash is still client side and fairly memory intensive for 3d so loading in models directly to as3 is nice if flash is your presentation tool.
AS3 Blender exporter has been updated to allow multiple object export. Also in April is was updated to export quads and modifiers.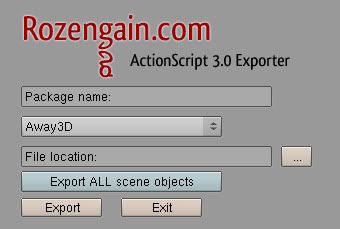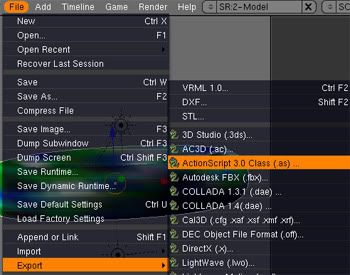 One concern you might have is statically binding the code within a main swf fileon compile and resulting file size compared to loading in the DAE dynamically.  But you can just load these in as you would external DAE COLLADA files as compiled swfs and since it is just code it is very compact.   This adds some duplication of code (such as tweening libraries or the 3d engine source as needed) but allows a more horizontal loading or lazy loading of meshes when needed.
This is just another option to get 3D models into the flash 3d engine of your choice in addition to COLLADA, some MD2 support and limited ASE support.
This is an awesome project that keeps getting better, thanks Rozengain.
If you are exporting from blender to actionscript directly so you can get your models into flash as script you can use the Blender to .as3 exporter which so kindly supports all flash 3d engines currently Away3D, Papervision3D and Sandy3D.  Dennis Ippel made the Blender exporter a while back but the update supports papervision 2.0.
The benefits of COLLADA are nice but there are so many differences that you can run into trouble.  With the exporter it is a direct faces and vector export without all the bloat of DAE/COLLADA xml.  This works if you are only developing for flash and dont' need to use the models in other platforms/systems/engines that aren't in flash.