Posts Tagged 'facebook'
On the web based gaming front…
Google looks to be making a gaming site to compete with Facebook only kicking the gaming up a notch? By the comment from Mark DeLoura, head of developer advocate for Google gaming, it appears they/he also favor going 3d or native client with WebGL or Unity wrapped in the native client.
Check the comment by Mark DeLoura on the gamasutra post regarding the rumored Google Me Facebook like gaming/social site:
I think Flash will continue to be a very viable platform. The Flash toolset is pretty frickin' amazing, and there are a ton of happy Flash developers out there, and great games galore.

I would like to see higher-fidelity 3D content on the web though. It's been a dream of many people going back to VRML days. WebGL and Native Client are two solutions to this that will be integrated into the Chrome browser. At Google I/O we talked about Unity running inside of Native Client, which combines the hardware acceleration and security of Native Client with the fantastic toolset and runtime from Unity. It's peanut butter and chocolate (well, for me). This is a platform I'm really excited about for 3D web games.
Indeed peanut butter and chocolate is mighty tasty.
Recently on the papervision lists there have been some really creative uses of pv3d in games. I will highlight two here:
The Bowling Buddies game is made by the very creative Playfish.com company (more on the release at their blog). They have some great facebook/social network games combined with flash. With bowling buddies they created a game similar to Wii bowling (even with customize characters) and the best part is how they have scaled down versions. You can play in 2D, 3D and at different levels of quality to make it accessible to everyone. I think that will probably be needed with 3d flash games (Shockwave Director has LOD (Level of Detail) that helps with scaling down to slower machines but you have to do that yourself with the state of 3d engines in flash so far).
Bowling buddies and most playfish games are Facebook/Social Network based. You might say, why? (especially if you aren't in the US where facebook is the biggest social network). But even Activision's CEO calls facebook a threat to online gaming as we know it, this is because of the community aspect and the ability to play with friends and multiplayer games easily. Rather than setting up your own player find mechanism, facebook has it built in and all the viral aspects you need to garner more fans. So those into facebook and gaming are possibly ahead, but also it will be extremely competitive.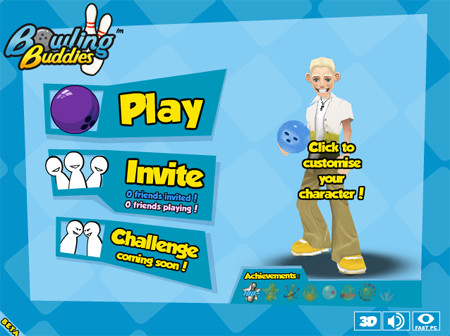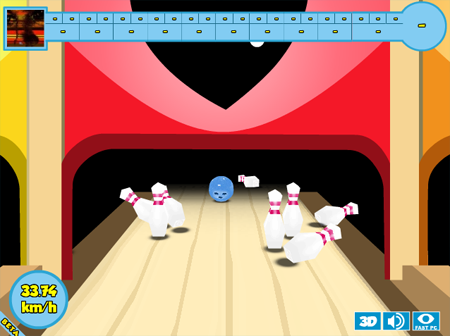 Airship is a really creative game that has been impressive to watch grow over the last weeks. It is now textured and performs pretty well. The best part is the Airship model and the fans. Very neat and I hope this one is seen through to a launched game. It is a bit like a RTS/Strategy overhead game that would be very cool to play multiplayer with Red5 server as well (just need the TIME!).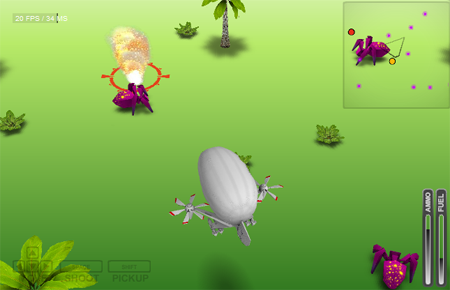 [ try airship demo ]
The best part is you can see after a year+ of release papervision and the other 3d engines are really changing the way gaming is done online. What was once a Java or Shockwave only capability, flash now has with evolving 3d engines, and there are playable fun games to prove it that are commercial ready.
Get your game on!