Posts Tagged 'fps'
This will blow you away. Found first via mrdoob (with quantum rss reading capability, before the message is concieved mrdoob is there).
Alternativa Platform, previously Alternativa Game, launched their Alternativa Platform milestone 1 and really one demo would have been enough but there are some great demos there that literally put them what appears a couple laps up on the 3d FPS style engine in Flash.
The engine is highly optimized and smooth, heavy on the processor, but using the 't' key you can see some nice revealing triangle rendering. Also, playing with the field of view adds for some nice game effects. (try jumping on the fans in the half-life like room in the first demo)
Check the textures
See the Matrix

Get superpowers

From Above, Isometric
Here is what is to come from the platform:
dynamic lighting and shadows (точечные и направленные источники света);
sprite pre-render system (phases render on server using uploaded 3D-models);
animation system (including inverse kinematics);
3D-objects interactivity;
physics simulation.
Congrats to the Russian based Alternativa Platform, the world is watching.
Paul Spitzer has been updating the animasinteractive paradox FPS engine for flash with some great new additions and more about the engine capabilities. I think you will be blown away again by this engine.
Paul has added proximity objects which are key elements of online multiplayer games for networking (distance based messaging and events) as well as fun stuff like proximity mines as demoed. Get over there and check it out the best, quality FPS engine yet in flash continues.
The lighting, textures, effects, HUD, all look excellent.
This is in flash, a paradox indeed.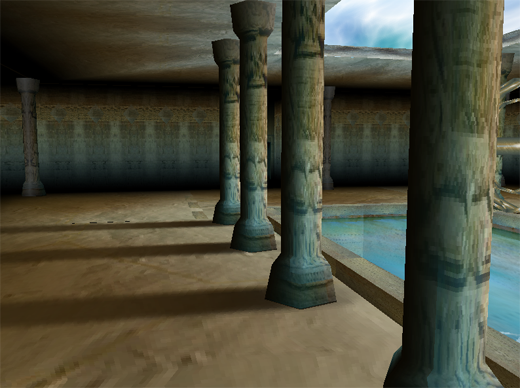 Wow. This new away3d demo of a temple and FPS movement in Flash9 AS3 rivals that of the paradox engine in pv3d.
Both are extremely smooth movement and great looking textures, both of these efforts are amazing for Flash is at this level. I would say Paul Spitzer's paradox papervision3d based engine is still a little more responsive and the textures have such good baked lighting that is is very smooth (he posted recently on some internals and usages of media in the engine). But from these two engines and iterations you can see that the FPS engine in Flash is not too far off.
Although there used to be crashes with away3d it has really improved and this is very smooth. My processor was actually quite chillin' with all the software rendering carpet bombing from software rendered 3d in flash. But it really is starting to get much better with optimizations to flash this year and papervision, away3d and sandy getting more mature and further iterated to greatness.
The away3d sample if you walk through the rooms also has an interactive button, opening doors, room transitions (and if these are dynamic) a decent room engine with pretty sweet load times since the whole thing is under 300k.