Posts Tagged 'PHOTOSHOP'
If there ever was a proof that more intense applications like word processors and image manipulation software are capable of being built and some aspects even better than their desktop counterparts with flash and flex then Scrapblog, Buzzword, Picnik and Photoshop Express are that (in fact Photoshop Express is a direct competitor with Picnik it seems…).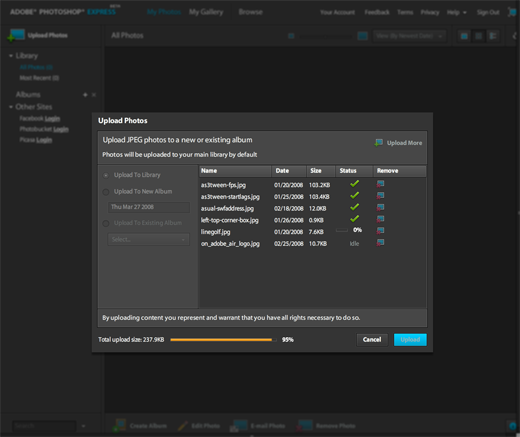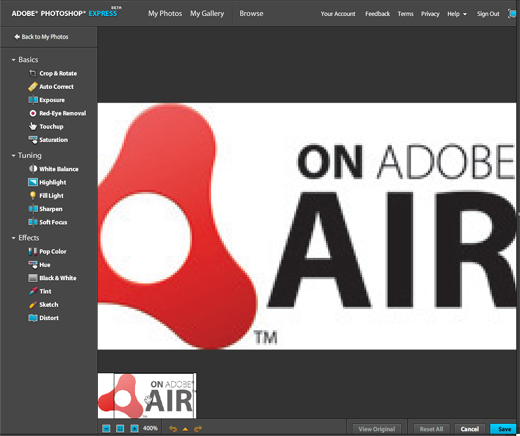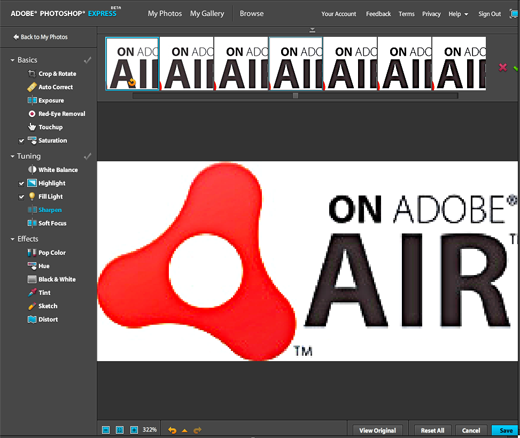 Adobe launches Photoshop Express today to add to that set that are very usable, quality applications built with Flash9/Flex and most of all actionscript 3 (as3) and the new AVM2. These apps just weren't possible with AS2 and with Flex they can be easily managed codebases (one major problem with old skool flash actionscript is it was throwaway many times because it was so scripter specific and full of optimizations just to barely perform – now these are actual code bases made by programmers and you see the results).  The great thing about buzzword, picnik and photoshop express are that they are easy to use. Flash/Flex make sense in their case and they tend to mimic and use very good usability patterns.There is no way an AJAX app (even though I build lots of those too) can come close to this integration of style, usability and expected results on all browsers.One important point of this article on news.com mentioning this:

The service will go live in beta test mode on Thursday. Mack said that the company intends to use the test period as a way garner feedback from customers.Adobe intends to offer more features to consumers who pay a yearly fee. Some planned features include a printing service, more storage, support for audio and other media, and the ability to read additional image file types (the service works with .JPGs now.)Adobe also plans to build an offline client using AIR (the Adobe Integrated Runtime) so that people can edit photos offline, executives said.
A couple things here.  First there is going to be an AIR version for the same experience on the web and the desktop for a major application.  Second, flash IS limited to certain file types JPG, SWF, PNG, GIF, and a few others for sound and video.  So why an online photoshop is great, it is still only web based photos, simple edits, etc.  Photographers and users above 72dpi in the 300 600 ++ ranges will still be using Photoshop.  Users with EPS,RAW, etc will still have to use Photoshop until Adobe figures a way to either proxy an image and handle the real source (be it another format) behind the scenes.  Or, improve the flash player to handle other raster and vector image types.A project a while back we had this issue where it was a approval system of media types but the types could be PDF or EPS in addition to web image formats or on occasion other formats and it became a challenge where the content was marked up with flash.  Eventually it was in a div overlay so we could load in the unsupported types behind and sync them with javascript, where flash was just a canvas or screen on top to put notes and markings.  But when it comes to editing that is different, you expect to edit. Also, working with the real source in image manipulation is extremely important so a proxy to the real image seems unlikely a good choice except for simple web uses.In any case, Photoshop Express is a great web based image tool but there are limitations that prevent it from taking any large swath of share from the normal old desktop Photoshop any time soon.