Posts Tagged 'SANDY'
Haxe Sandy is a version of Sandy that can export to an experimental Javascript 3D engine taking advantage of the <canvas> element. There are some great demos that run smoothly in canvas capable browsers and very smooth in Chrome.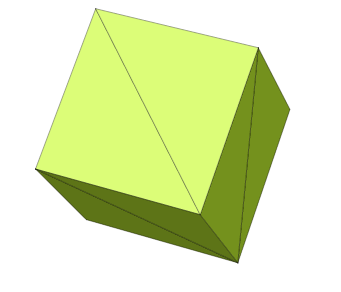 Demos of Haxe Sandy:
Sandy was actually the first open source 3d engine in flash, maybe this will be a trend building in haXe for export to flash and javascript?  It certainly looks like a great start and would make a very nice platform for 3d on the web allowing Sandy or other flash libraries to run in Flash and Javascript by writing in an abstraction platform like haXe. Other libraries like Motor2, Physaxe, haxe3D, PureMVC and more have haXe versions. Still very experimental but a possible need when Flash and canvas are both in the market in the future.  Right now it is still all Flash.
Rozengain or Dennis Ippel of AKQA updated probably one of the tools I use the most for flash 3d and that is the blender to as3 exporter.  This simplifies loading in the meshes you have and lessens the bulk of the COLLADA format.  COLLADA is great but flash is still client side and fairly memory intensive for 3d so loading in models directly to as3 is nice if flash is your presentation tool.
AS3 Blender exporter has been updated to allow multiple object export. Also in April is was updated to export quads and modifiers.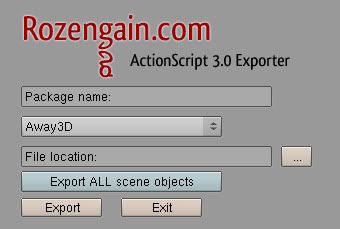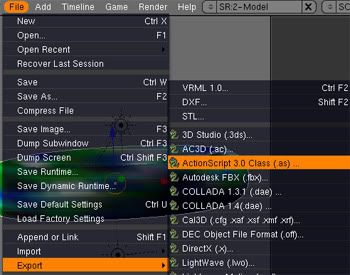 One concern you might have is statically binding the code within a main swf fileon compile and resulting file size compared to loading in the DAE dynamically.  But you can just load these in as you would external DAE COLLADA files as compiled swfs and since it is just code it is very compact.   This adds some duplication of code (such as tweening libraries or the 3d engine source as needed) but allows a more horizontal loading or lazy loading of meshes when needed.
This is just another option to get 3D models into the flash 3d engine of your choice in addition to COLLADA, some MD2 support and limited ASE support.
This is an awesome project that keeps getting better, thanks Rozengain.
Making great games, applications and tools using flash, silverlight or other tools that are emerging such as Unity3D takes great style, effort and knowing your target. We need to know what the end-user machine has at hand.  The Unity 3d guys put together a great post on the capabilities of casual gaming machines. With all the talk about flash 3d, unity3d and silverlight what level are you targeting and what group of people can actually PLAY your games as you envision.
Pretty much everyone knows Valve's hardware survey – it's a very valuable resource that shows what hardware the typical "hardcore PC gamer" has (that is, gamers that play Valve's games).

However, the "casual gamer", which is what Unity games are mostly targeted at, probably has slightly different hardware. "Slightly" being a very relative term of course.

Lo and behold – we have a glimpse into that data.

How? First time the Unity Web Player is installed, it submits anonymous hardware details (details in the EULA). This happens only once, and contains no personally identifiable information. It's much like visitor statistics trackers on the websites that gather your OS, browser information and whatnot.
…
Remember, all this data is from people who installed Unity Web Player (most likely because they wanted to play some Unity content on the web). Hardware of standalone game players might be different, and hardware of your game's players might be different as well. The data set is well over a million samples at the moment.
Check out the full stats here.
The most interesting stats to me:

OS Platforms
Windows 96.8%
Mac OS X 3.2%
CPU Core count overall
1 54.7%
2 44.1%
4 1.1%
8 .1%
Wow this one is surprising, but with the type of gamer that will play and download a quality new plugin to get to a game, maybe not.  They need to have the latest and greatest.  Multi-core processors have been selling for about 2-3 years so this is a continuing trend that will make Flash 3d and even plugins like Unity 3d better over the short term.
Also when you check it over at Unity Blog note the top cards, it is a bit painful if you are a casual gamer developer.  Not a decent card in the top 10-15. But that is changing rapidly over the next 1-2 years in this regard. But this also vyes well for flash based games that rely on dual core software rendered results right now as a decent constraint for developers to keep content painfully accessible to all states of machinery out there.
I wonder if this information is available on the flash player and public? This is specific to the Unity 3D plugin that is also a bit of a different market that is willing to install a plugin for better experiences.  With Flash it is usually preinstalled or auto updated for a casual user and might be different as Flash has a 98% penetration rate.  Or for that matter the Director users which would be more gaming focused which amout ot about 40% of internet users.  But as with the case of Unity it is specific to games right now and a small penetration rate, Flash is also apps, ads, tools, demos, interactives in addition to games.  Having this information on Flash or Director would be nice.