Posts Tagged 'SILVERLIGHT'

Mike Chambers posted that Flash Player 10 is officially live. This completes your 1-2 punch of RIA/game platform releases of Silverlight and Flash this week.
Flash Player 10 is great news. There are so many things in it from a new data structure (Vector), to local FileReference, to Matrix and 3D helpers, to speed improvements and video enhancements being able to play other video types and more (this was actually in a late version of flash player 9 as well but will be used more here). It does take time for flash versions to get out in the wild, about 9 months to where they are in the 90%-95% range where you can convince people to use it in production, but getting those skills now is good.  The scripting platform is still Actionscript 3 so anyone still making Flash Player 8 and AS2 stuff is now two revolutions behind.
Another thing I am looking forward to soon (next week) that is missing from both Flash and Silverlight, is the ability to develop for the iPhone, which Unity3D is dropping the iPhone kit on Oct 22nd. Unity3D has effectively taken Director's 3d game development (hardware accelerated) market lead away this year and late last year and is a great platform. Director who?
Lots of great tools and platforms to create the innovative new applications, games and markets that are so needed right now. Go create!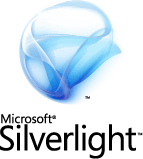 Silverlight 2 has been released. This is the real silverlight release.  The release last year 1.0 was just a javascript release and only had one object, the downloader, not even a text input.  But now there are real tools like rich ui controls, services support (REST), DLR (C#, Linq, ironpython/ruby) and Sockets which are much needed for games and game platform development.
There are also much better tools at this stage:
Bam. Silverlight 2 is out. There's the expected stuff, like the final SDK, Expression, and Silverlight tools:

And from Tim's blog:

But there's also http://www.eclipse4sl.org/. Yes, that means you can code Silverlight in Eclipse. Details and progress at the Eclipse Tools for Silverlight Blog. It'll be licensed under the EPL 1.0 License.
I have done lots of Silverlight initially when 1.0 came out as well as the agency I was working at.  We did video players, mini-games, demo apps and even the Halo 3 online manual at silverlight.net.  But it wasn't really ready until now.  It still has a long way to go to really be an alternative to Flash but it is capable platform at version 2 for applications, mini-games and video apps for sure. But in the end it just provides competition to make both the Flash/Flex platforms and Silveright compete for developer support.