Posts Tagged 'sound'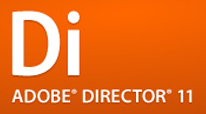 Director 11.5 was quietly released last week at GDC with a few nice upgrades.
The sound library is updated to Dolby surround 5.1. 
Director 11 now supports ByteArray and binary data handling. 
It also states support for Flash 9 swfs. Previously Director 11 did not work well/atall with AS3/Flash 9 swfs which made it nearly useless.
Streaming support for audio and video with RTMP (red5, flash media server, etc)
Updated video support
Bitmap and audio filters for video
I still think Director is on decline unless they open up the development platform, lose Lingo and allow a real IDE to develop with. So frustrating being restrained to that IDE that is not very flexible and cumbersome to extend and code in when you compare it with cutting edge IDEs like Unity3D or open source flash IDEs like FlashDevelop. It has been completely removed from our workflow for some time due to new Flash 2.5D engines such as papervision 3d, away 3d and sandy or for more immersive hardware rendered 3d, unity3d. 
Adobe Director version comparison chart
Product features
Director 11.5
Director 11
Director MX 2004
Support for 5.1 surround sound
Yes
No
No
Real-time audio mixing
Yes
No
No
Audio effects and DSP filters
Yes
No
No
H.264 MPEG-4, FLV, and F4V video support
Yes
No
No
Streaming support for audio and video with RTMP
Yes
No
No
Ability to apply audio filters on a video
Yes
No
No
Ability to apply bitmap filters on a video
Yes
No
No
Google SketchUp file import
Yes
No
No
Enhanced physics engine with support for dynamic concave rigid bodies
Yes
No
No
ByteArray datatype for binary data handling
Yes
No
No
Multiple undo/redo for text editors
Yes
No
No
Text rendering and performance optimization
Yes
No
No
Cross-domain policy support for Adobe Shockwave® Player
Yes
No
No
Mac OS X Leopard support
Yes
No
No
Unicode support
Yes
Yes
No
Microsoft DirectX 9 support
Yes
Yes
No
Advanced physics engine with included NVIDIA® PhysX™ support
Yes
Yes
No
JavaScript dictionary
Yes
Yes
No
Code snippets
Yes
Yes
No
Bitmap filters
Yes
Yes
No
Microsoft® Windows Vista® support
Yes
Yes
No
Support for Intel® based Macs
Yes
Yes
No
Cross-platform projector publishing
Yes
Yes
Yes
Web publishing with Adobe Shockwave Player
Yes
Yes
Yes
Support for more than 40 video, audio, and image file formats, including SWF
Yes
Yes
Yes
I use a SoundManager class for games and interactives that require it which I picked up at evolve by Matt Przybylski.  But I sometimes need to use Tweener rather than TweenLite depending on what the project uses already. So here is the class updated with Tweener.  Just grab the latest Tweener to work with this.  Sound is one of those things like tweening, it is easier to reuse code if everyone uses common libraries.
package game.util
{
	import caurina.transitions.properties.SoundShortcuts;
	import flash.media.Sound;
	import flash.media.SoundChannel;
	import flash.media.SoundLoaderContext;
	import flash.media.SoundTransform;
	import flash.net.URLRequest;
	import flash.utils.Dictionary;
	import flash.utils.getQualifiedClassName;
	import caurina.transitions.*;
	/**
	 * The SoundManager is a singleton that allows you to have various ways to control sounds in your project.
	 *

	 * The SoundManager can load external or library sounds, pause/mute/stop/control volume for one or more sounds at a time,
	 * fade sounds up or down, and allows additional control to sounds not readily available through the default classes.
	 *

	 * This class is dependent on TweenLite (http://www.tweenlite.com) to aid in easily fading the volume of the sound.
	 *
	 * @author Matt Przybylski [http://www.reintroducing.com]
	 * @version 1.0
	 *
	 * @author Ryan Christensen (http://drawlogic.com)
	 * @version 1.1 - added Tweener support and removed TweenLite support
	 */
	public class SoundManager
	{
//- PRIVATE & PROTECTED VARIABLES -------------------------------------------------------------------------
		// singleton instance
		private static var _instance:SoundManager;
		private static var _allowInstance:Boolean;
		private var _soundsDict:Dictionary;
		private var _sounds:Array;
//- PUBLIC & INTERNAL VARIABLES ---------------------------------------------------------------------------
//- CONSTRUCTOR -------------------------------------------------------------------------------------------
		// singleton instance of SoundManager
		public static function getInstance():SoundManager
		{
			if (SoundManager._instance == null)
			{
				SoundManager._allowInstance = true;
				SoundManager._instance = new SoundManager();
				SoundManager._allowInstance = false;
			}
			return SoundManager._instance;
		}
		public function SoundManager()
		{
			this._soundsDict = new Dictionary(true);
			this._sounds = new Array();
			if (!SoundManager._allowInstance)
			{
				throw new Error("Error: Use SoundManager.getInstance() instead of the new keyword.");
			}
		}
//- PRIVATE & PROTECTED METHODS ---------------------------------------------------------------------------
//- PUBLIC & INTERNAL METHODS -----------------------------------------------------------------------------
		/**
		 * Adds a sound from the library to the sounds dictionary for playing in the future.
		 *
		 * @param $linkageID The class name of the library symbol that was exported for AS
		 * @param $name The string identifier of the sound to be used when calling other methods on the sound
		 *
		 * @return Boolean A boolean value representing if the sound was added successfully
		 */
		public function addLibrarySound($linkageID:*, $name:String):Boolean
		{
			for (var i:int = 0; i < this._sounds.length; i++)
			{
				if (this._sounds[i].name == $name) return false;
			}
			var sndObj:Object = new Object();
			var snd:Sound = new $linkageID;
			sndObj.name = $name;
			sndObj.sound = snd;
			sndObj.channel = new SoundChannel();
			sndObj.position = 0;
			sndObj.paused = true;
			sndObj.volume = 1;
			sndObj.startTime = 0;
			sndObj.loops = 0;
			sndObj.pausedByAll = false;
			this._soundsDict[$name] = sndObj;
			this._sounds.push(sndObj);
			return true;
		}
		/**
		 * Adds an external sound to the sounds dictionary for playing in the future.
		 *
		 * @param $path A string representing the path where the sound is on the server
		 * @param $name The string identifier of the sound to be used when calling other methods on the sound
		 * @param $buffer The number, in milliseconds, to buffer the sound before you can play it (default: 1000)
		 * @param $checkPolicyFile A boolean that determines whether Flash Player should try to download a cross-domain policy file from the loaded sound's server before beginning to load the sound (default: false)
		 *
		 * @return Boolean A boolean value representing if the sound was added successfully
		 */
		public function addExternalSound($path:String, $name:String, $buffer:Number = 1000, $checkPolicyFile:Boolean = false):Boolean
		{
			for (var i:int = 0; i < this._sounds.length; i++)
			{
				if (this._sounds[i].name == $name) return false;
			}
			var sndObj:Object = new Object();
			var snd:Sound = new Sound(new URLRequest($path), new SoundLoaderContext($buffer, $checkPolicyFile));
			sndObj.name = $name;
			sndObj.sound = snd;
			sndObj.channel = new SoundChannel();
			sndObj.position = 0;
			sndObj.paused = true;
			sndObj.volume = 1;
			sndObj.startTime = 0;
			sndObj.loops = 0;
			sndObj.pausedByAll = false;
			this._soundsDict[$name] = sndObj;
			this._sounds.push(sndObj);
			return true;
		}


		/**
		 * Removes a sound from the sound dictionary.  After calling this, the sound will not be available until it is re-added.
		 *
		 * @param $name The string identifier of the sound to remove
		 *
		 * @return void
		 */
		public function removeSound($name:String):void
		{
			for (var i:int = 0; i < this._sounds.length; i++)
			{
				if (this._sounds[i].name == $name)
				{
					this._sounds[i] = null;
					this._sounds.splice(i, 1);
				}
			}
			delete this._soundsDict[$name];
		}
		/**
		 * Removes all sounds from the sound dictionary.
		 *
		 * @return void
		 */
		public function removeAllSounds():void
		{
			for (var i:int = 0; i < this._sounds.length; i++)
			{
				this._sounds[i] = null;
			}
			this._sounds = new Array();
			this._soundsDict = new Dictionary(true);
		}
		/**
		 * Plays or resumes a sound from the sound dictionary with the specified name.
		 *
		 * @param $name The string identifier of the sound to play
		 * @param $volume A number from 0 to 1 representing the volume at which to play the sound (default: 1)
		 * @param $startTime A number (in milliseconds) representing the time to start playing the sound at (default: 0)
		 * @param $loops An integer representing the number of times to loop the sound (default: 0)
		 *
		 * @return void
		 */
		public function playSound($name:String, $volume:Number = 1, $startTime:Number = 0, $loops:int = 0):void
		{
			var snd:Object = this._soundsDict[$name];
			snd.volume = $volume;
			snd.startTime = $startTime;
			snd.loops = $loops;
			if (snd.paused)
			{
				snd.channel = snd.sound.play(snd.position, snd.loops, new SoundTransform(snd.volume));
			}
			else
			{
				snd.channel = snd.sound.play($startTime, snd.loops, new SoundTransform(snd.volume));
			}
			snd.paused = false;
		}
		/**
		 * Stops the specified sound.
		 *
		 * @param $name The string identifier of the sound
		 *
		 * @return void
		 */
		public function stopSound($name:String):void
		{
			var snd:Object = this._soundsDict[$name];
			snd.paused = true;
			snd.channel.stop();
			snd.position = snd.channel.position;
		}
		/**
		 * Pauses the specified sound.
		 *
		 * @param $name The string identifier of the sound
		 *
		 * @return void
		 */
		public function pauseSound($name:String):void
		{
			var snd:Object = this._soundsDict[$name];
			snd.paused = true;
			snd.position = snd.channel.position;
			snd.channel.stop();
		}
		/**
		 * Plays all the sounds that are in the sound dictionary.
		 *
		 * @param $useCurrentlyPlayingOnly A boolean that only plays the sounds which were currently playing before a pauseAllSounds() or stopAllSounds() call (default: false)
		 *
		 * @return void
		 */
		public function playAllSounds($useCurrentlyPlayingOnly:Boolean = false):void
		{
			for (var i:int = 0; i < this._sounds.length; i++)
			{
				var id:String = this._sounds[i].name;
				if ($useCurrentlyPlayingOnly)
				{
					if (this._soundsDict[id].pausedByAll)
					{
						this._soundsDict[id].pausedByAll = false;
						this.playSound(id);
					}
				}
				else
				{
					this.playSound(id);
				}
			}
		}
		/**
		 * Stops all the sounds that are in the sound dictionary.
		 *
		 * @param $useCurrentlyPlayingOnly A boolean that only stops the sounds which are currently playing (default: true)
		 *
		 * @return void
		 */
		public function stopAllSounds($useCurrentlyPlayingOnly:Boolean = true):void
		{
			for (var i:int = 0; i < this._sounds.length; i++)
			{
				var id:String = this._sounds[i].name;
				if ($useCurrentlyPlayingOnly)
				{
					if (!this._soundsDict[id].paused)
					{
						this._soundsDict[id].pausedByAll = true;
						this.stopSound(id);
					}
				}
				else
				{
					this.stopSound(id);
				}
			}
		}
		/**
		 * Pauses all the sounds that are in the sound dictionary.
		 *
		 * @param $useCurrentlyPlayingOnly A boolean that only pauses the sounds which are currently playing (default: true)
		 *
		 * @return void
		 */
		public function pauseAllSounds($useCurrentlyPlayingOnly:Boolean = true):void
		{
			for (var i:int = 0; i < this._sounds.length; i++)
			{
				var id:String = this._sounds[i].name;
				if ($useCurrentlyPlayingOnly)
				{
					if (!this._soundsDict[id].paused)
					{
						this._soundsDict[id].pausedByAll = true;
						this.pauseSound(id);
					}
				}
				else
				{
					this.pauseSound(id);
				}
			}
		}
		/**
		 * Fades the sound to the specified volume over the specified amount of time.
		 *
		 * @param $name The string identifier of the sound
		 * @param $targVolume The target volume to fade to, between 0 and 1 (default: 0)
		 * @param $fadeLength The time to fade over, in seconds (default: 1)
		 *
		 * @return void
		 */
		public function fadeSound($name:String, $targVolume:Number = 0, $fadeLength:Number = 1):void
		{
			var fadeChannel:SoundChannel = this._soundsDict[$name].channel;
			SoundShortcuts.init();
			Tweener.addTween(fadeChannel, { _sound_volume: $targVolume, time: $fadeLength, transition:"linear" } );
			//TweenLite.to(fadeChannel, $fadeLength, {volume: $targVolume});
		}
		/**
		 * Mutes the volume for all sounds in the sound dictionary.
		 *
		 * @return void
		 */
		public function muteAllSounds():void
		{
			for (var i:int = 0; i < this._sounds.length; i++)
			{
				var id:String = this._sounds[i].name;
				this.setSoundVolume(id, 0);
			}
		}
		/**
		 * Resets the volume to their original setting for all sounds in the sound dictionary.
		 *
		 * @return void
		 */
		public function unmuteAllSounds():void
		{
			for (var i:int = 0; i < this._sounds.length; i++)
			{
				var id:String = this._sounds[i].name;
				var snd:Object = this._soundsDict[id];
				var curTransform:SoundTransform = snd.channel.soundTransform;
				curTransform.volume = snd.volume;
				snd.channel.soundTransform = curTransform;
			}
		}
		/**
		 * Sets the volume of the specified sound.
		 *
		 * @param $name The string identifier of the sound
		 * @param $volume The volume, between 0 and 1, to set the sound to
		 *
		 * @return void
		 */
		public function setSoundVolume($name:String, $volume:Number):void
		{
			var snd:Object = this._soundsDict[$name];
			var curTransform:SoundTransform = snd.channel.soundTransform;
			curTransform.volume = $volume;
			snd.channel.soundTransform = curTransform;
		}
		/**
		 * Gets the volume of the specified sound.
		 *
		 * @param $name The string identifier of the sound
		 *
		 * @return Number The current volume of the sound
		 */
		public function getSoundVolume($name:String):Number
		{
			return this._soundsDict[$name].channel.soundTransform.volume;
		}
		/**
		 * Gets the position of the specified sound.
		 *
		 * @param $name The string identifier of the sound
		 *
		 * @return Number The current position of the sound, in milliseconds
		 */
		public function getSoundPosition($name:String):Number
		{
			return this._soundsDict[$name].channel.position;
		}
		/**
		 * Gets the duration of the specified sound.
		 *
		 * @param $name The string identifier of the sound
		 *
		 * @return Number The length of the sound, in milliseconds
		 */
		public function getSoundDuration($name:String):Number
		{
			return this._soundsDict[$name].sound.length;
		}
		/**
		 * Gets the sound object of the specified sound.
		 *
		 * @param $name The string identifier of the sound
		 *
		 * @return Sound The sound object
		 */
		public function getSoundObject($name:String):Sound
		{
			return this._soundsDict[$name].sound;
		}
		/**
		 * Identifies if the sound is paused or not.
		 *
		 * @param $name The string identifier of the sound
		 *
		 * @return Boolean The boolean value of paused or not paused
		 */
		public function isSoundPaused($name:String):Boolean
		{
			return this._soundsDict[$name].paused;
		}
		/**
		 * Identifies if the sound was paused or stopped by calling the stopAllSounds() or pauseAllSounds() methods.
		 *
		 * @param $name The string identifier of the sound
		 *
		 * @return Number The boolean value of pausedByAll or not pausedByAll
		 */
		public function isSoundPausedByAll($name:String):Boolean
		{
			return this._soundsDict[$name].pausedByAll;
		}
//- EVENT HANDLERS ----------------------------------------------------------------------------------------
//- GETTERS & SETTERS -------------------------------------------------------------------------------------
		public function get sounds():Array
		{
			return this._sounds;
		}
//- HELPERS -----------------------------------------------------------------------------------------------
		public function toString():String
		{
			return getQualifiedClassName(this);
		}
//- END CLASS ---------------------------------------------------------------------------------------------
	}
}