Posts Tagged 'update'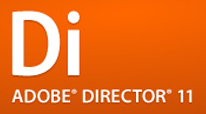 Director 11.5 was quietly released last week at GDC with a few nice upgrades.
The sound library is updated to Dolby surround 5.1. 
Director 11 now supports ByteArray and binary data handling. 
It also states support for Flash 9 swfs. Previously Director 11 did not work well/atall with AS3/Flash 9 swfs which made it nearly useless.
Streaming support for audio and video with RTMP (red5, flash media server, etc)
Updated video support
Bitmap and audio filters for video
I still think Director is on decline unless they open up the development platform, lose Lingo and allow a real IDE to develop with. So frustrating being restrained to that IDE that is not very flexible and cumbersome to extend and code in when you compare it with cutting edge IDEs like Unity3D or open source flash IDEs like FlashDevelop. It has been completely removed from our workflow for some time due to new Flash 2.5D engines such as papervision 3d, away 3d and sandy or for more immersive hardware rendered 3d, unity3d. 
Adobe Director version comparison chart
Product features
Director 11.5
Director 11
Director MX 2004
Support for 5.1 surround sound
Yes
No
No
Real-time audio mixing
Yes
No
No
Audio effects and DSP filters
Yes
No
No
H.264 MPEG-4, FLV, and F4V video support
Yes
No
No
Streaming support for audio and video with RTMP
Yes
No
No
Ability to apply audio filters on a video
Yes
No
No
Ability to apply bitmap filters on a video
Yes
No
No
Google SketchUp file import
Yes
No
No
Enhanced physics engine with support for dynamic concave rigid bodies
Yes
No
No
ByteArray datatype for binary data handling
Yes
No
No
Multiple undo/redo for text editors
Yes
No
No
Text rendering and performance optimization
Yes
No
No
Cross-domain policy support for Adobe Shockwave® Player
Yes
No
No
Mac OS X Leopard support
Yes
No
No
Unicode support
Yes
Yes
No
Microsoft DirectX 9 support
Yes
Yes
No
Advanced physics engine with included NVIDIA® PhysX™ support
Yes
Yes
No
JavaScript dictionary
Yes
Yes
No
Code snippets
Yes
Yes
No
Bitmap filters
Yes
Yes
No
Microsoft® Windows Vista® support
Yes
Yes
No
Support for Intel® based Macs
Yes
Yes
No
Cross-platform projector publishing
Yes
Yes
Yes
Web publishing with Adobe Shockwave Player
Yes
Yes
Yes
Support for more than 40 video, audio, and image file formats, including SWF
Yes
Yes
Yes